Partager la publication "Born in Paradise, le paradis parfumé d'Escada"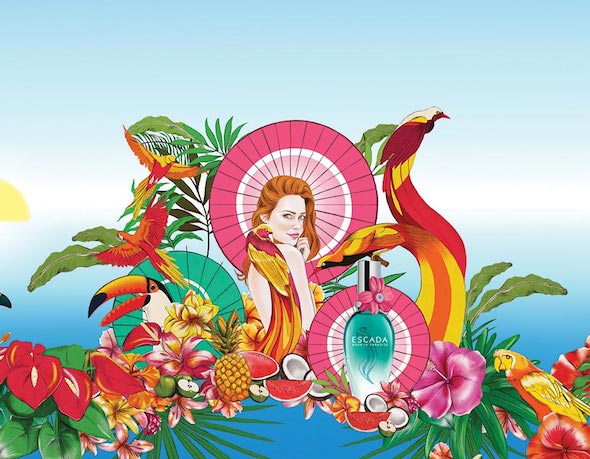 Prêtes à découvrir le nouveau jus estival d'Escada dont les effluves vous invitent au paradis ? Cette nouvelle fragrance exubérante inspirée du cocktail Pina Colada est à la fois douce, subtile et frivole avec ses arômes de fruits tropicaux posés sur des notes boisées et musquées. Un vrai jardin luxuriant grâce à son flacon emblématique aux reflets bleu-vert qui vous plongera dans les profondeurs de l'océan avec son bouchon argenté orné d'une fleur d'hibiscus rose, à utiliser aussi comme un accessoire pour les cheveux. Bouclons notre voyage avec un focus sur l'étui créé par l'illustratrice néo-zélandaise Kelly Thompson qui deviendra vite collector. Un petit goût de vacances sur les plages polynésiennes avant l'heure… Eau de toilette 100ml : 68€ – 50ml : 54€ – 30ml : 39€. www.escada-fragrances.com
Agnès Lamarre
English
Ready for the new Escada summery fragrance with its enchanting scents? This new energizing perfume inspired by Pina Colada cocktail is as delicate, as subtle as astonishing, flavored with tropical fruits aroma and driven by wooden and musky notes. A luxuriant garden dreamlike thanks to its emblematic blue-green-sparkle bottle plunging you deep ocean with its silver cork ornamented by rose hibiscus flower that you can accessorize your hair with. Let's end up the journey emphasizing the New Zealander Kelly Thompson's case on the verge of becoming collector. What to enjoy Polynesian beaches summer holidays… Eau de toilette 100 ml: 68€, 50ml : 54€, 30ml : 39€.
Translation : Sarah Maouia www.facebook.com/sarah.maouia.9?ref=tn_tnmn
La rédaction